Hotline
886-3-5396657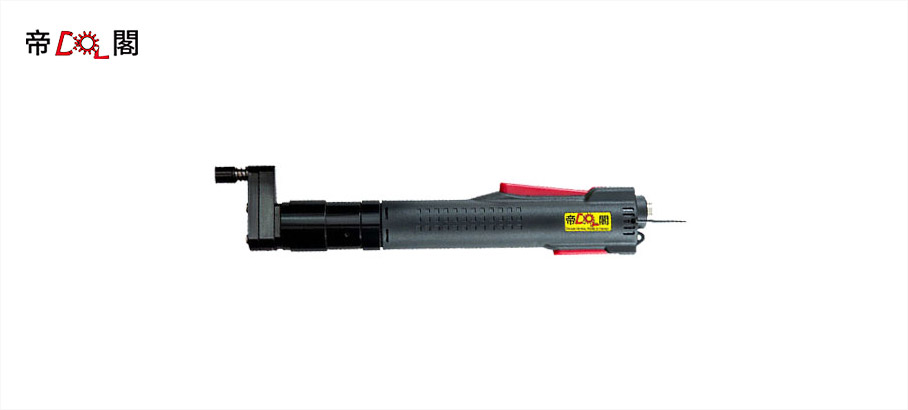 01

Patent special mechanism

The whole machine is perfectly matched from electric control to mechanism, with more accurate torque, light weight, low temperature rise and longer service life.
02

Brushless environmental protection motor

Maintenance free, high efficiency and low temperature rise. It is a special product for dust-free workshop. It is suitable for mobile phones, iPads, watches, laptops, communication instruments and other confidential products.
03

Electronic brake mechanism

With Hall element, the braking action is more sensitive and the service life is longer.
04

light and handy volume

Excellent appearance and grip feeling, reducing employee fatigue, increasing production capacity and the rate of good product is improved.
05

Sturdy and durable

The whole machine is made in Taiwan and serves global customers with Taiwan's high-quality products, serious attitude and professional team.
06

Wide application

PS. if the products listed in the catalog cannot meet your needs, we can develop new products according to customer's needs and improve performance parameters.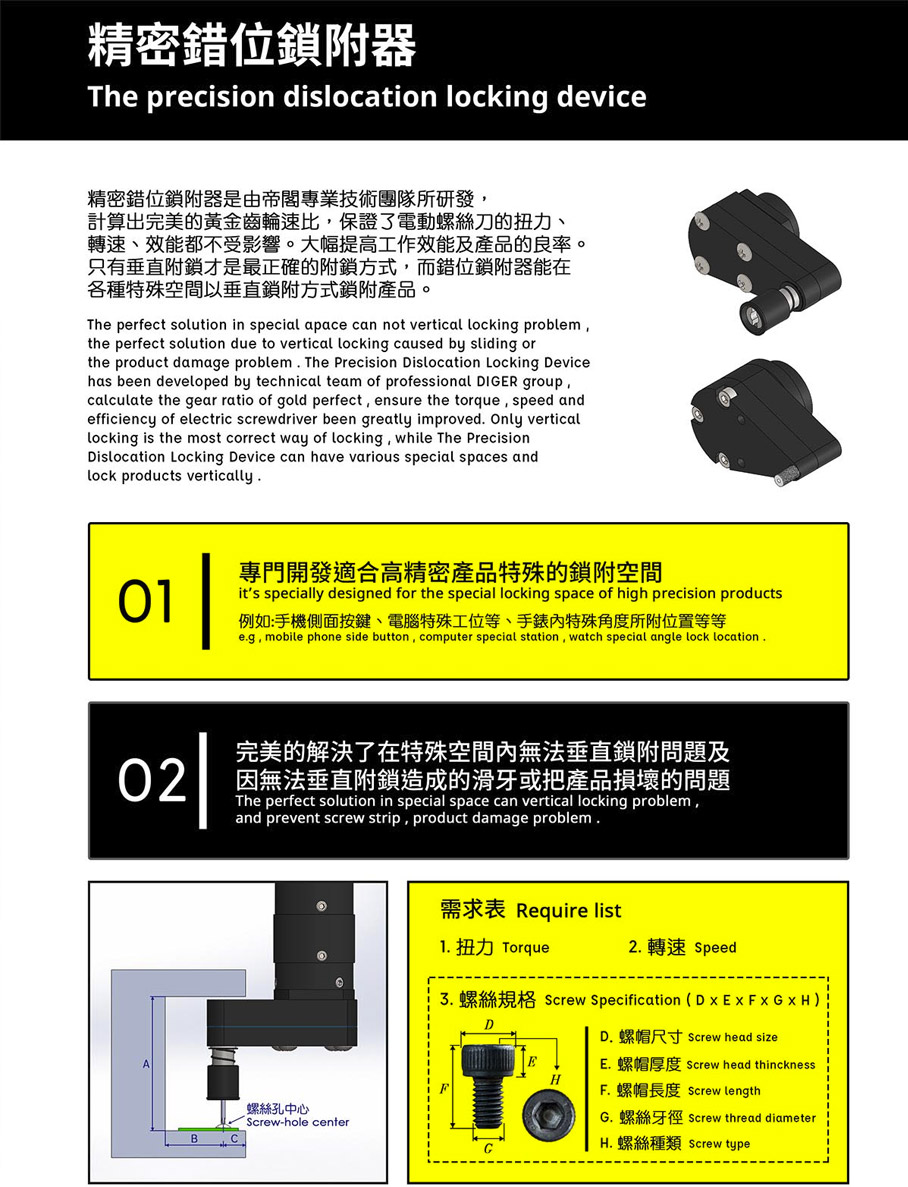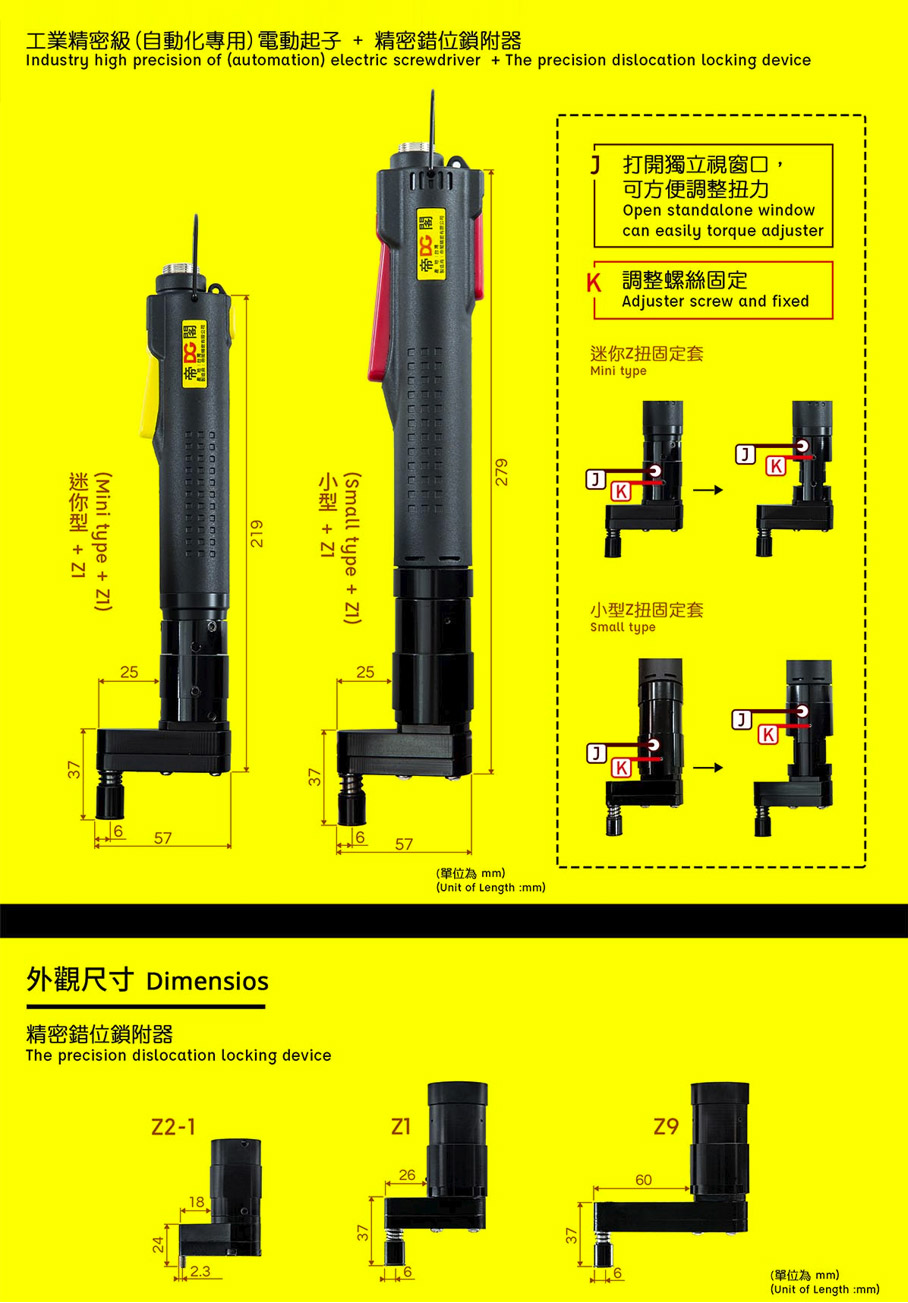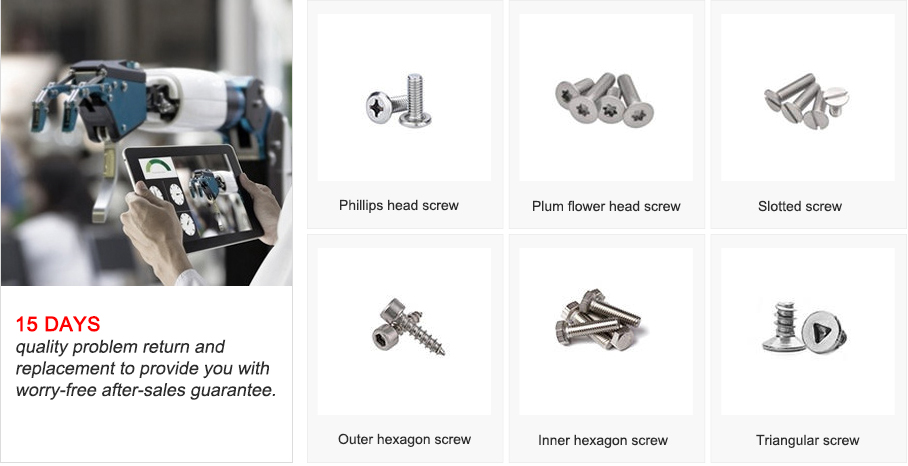 Production strength
strength of research
and development
Product strength
Supporting strength
More than 20 years of industry experience and strong strength

Xxx square meter large-scale production base, automated production line, annual output xxx, delivery time guaranteed;

Equipped with CNC machining centers, lathes, milling machines, grinders, wire cutting machines and other automation equipment, it serves thousands of companies around the world, and its products are sold at home and abroad;

Long-term cooperation with many well-known mobile phone, digital camera, notebook computer and other manufacturers.
Professional technical team will solve your problems

Many technicians with more than 10 years of professional R&D experience, 9 national patents, strong R&D strength;

Adopt unique innovative technology to continuously improve the performance of locking tools to make assembly easier;

According to your actual needs, provide technical analysis, product modeling and other support.
The whole machine is imported from Taiwan with 15 quality inspection procedures,
and the quality is reliable

100% researched and developed by the original Taiwanese factory, and the products are guaranteed;

Adopt precise measurement methods, 15 inspection procedures, and strict quality control;

DIGE products have passed various safety certifications such as CCC, UL, CE, and FCC.
Perfect supply chain system,Meet the requirements of parts selection

There are thousands of long-term and stable brand parts suppliers, and many high-performance parts are available for selection:

Can provide personalized parts selection scheme to ensure that the product is consistent with actual needs;

Can provide optimization suggestions for product structure design to help you reduce manufacturing costs.